Ooh la la! Meet 'Full Metal' G-Shock, the watch that will make you look like an exec on the trail, but still do what you need it to do while you're there.
Executed with a heavy-duty but still elegant stainless case, bezel, and band, the new Casio G-Shock GMB2100 scans as both tough and showy. Athletes know the foundational sports watch line for its functionality and rugged appeal.
And the GMB2100 Full Metal appears to double down on both.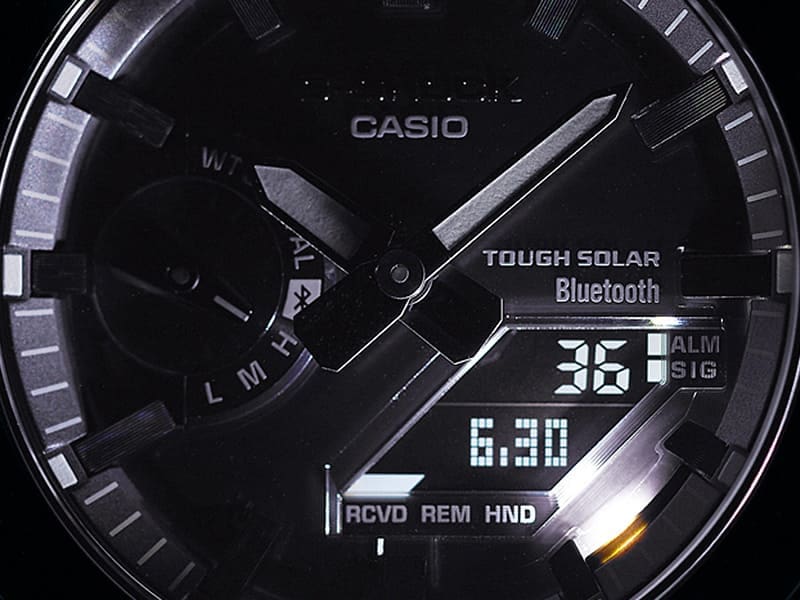 The main components in the case and the band are all, in fact, metal, and carefully designed resin structures help diffuse impacts.
From there, solar-powered Bluetooth connectivity helps keep the watch stay right on time. The feature-set rounds out with 20-bar water resistance, a stopwatch, alarm settings, and a double LED light that G-Shock calls the "Super Illuminator.".
The case's octagonal shape calls back to the G-Shock roots. It mimics the very first G-Shock watch, Casio said, 1983's DW-5000C.
Suffice it to say the GMB2100 looks like a distinct evolution from that piece in terms of construction. In addition to the components between the stainless bezel and case, you'll find a "three-pronged structure" applied to the lugs.
Casio says the decision helps disperse impacts to the connective part of the stainless band.
Casio kept the analog display tidy, adding just two simple windows to display secondary information like stopwatch time.
But Bluetooth connectivity to the Casio Watches app supports a wider range of functions.
The GMB2100 automatically adjusts to the right time four times a day. It also lets users set reminders for personal notes, includes a "time and place" marker you can use as an activity log by pushing a button on the watch, and — we're pretty into this one — offers a "phone finder" so you can use your watch to hunt down your lost smartphone.
The Full Metal G-Shock's 20-bar water resistance suits it for high-impact water sports and any diving that doesn't require helium (around 200 feet). Casio's Tough Solar, designed to support G-Shock's most consumptive functions, should mean the watch stays charged as long as you go outside once in a while.
The GMB2100 comes in three finishes, including black and rose gold.
It doesn't look like the most uber-capable piece in the G-Shock lineup, nor is it the most lavish — but its handsome profile and tight collection of features should still attract many.
MSRP: $600. Check it out at the G-Shock website.