Staying active can sometimes feel like a chore, especially when those rainy months come back around. With premier indoor sports facilities like Steamboat Tennis & Athletic Club (STAC) in Olympia, you can easily find fun ways to keep moving, get connected and stay fit. STAC is currently in the process of opening a brand-new athletic facility in addition to their long-established tennis club, so more opportunities for health and wellness are right around the corner. Stop by today for a tour and get started on your own health journey for a special $49 enrollment fee!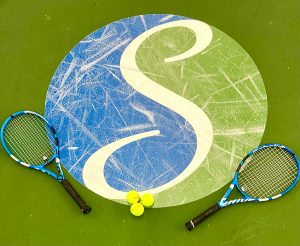 Tennis and Athletic Club in Olympia Fulfills a Lifelong Dream
STAC Owner and Founder Drake Nicholson has been a lifelong tennis player and avid community member. As a child, Drake had been introduced to the wonderful world of tennis at the age of 12. His parents, Larry and Marlene, loved spending time together as a family on the tennis courts, and inspired him to pursue tennis competitively.
"I started playing in high school and then went on to play for two years at Centralia College," Drake recalls. "I kept it up over the years and joined tournaments and USTA leagues, and met so many great people." He carried on his parents' family pastime into his own parenthood so his daughters Natalie and Noelle could reap the same benefits of this open and welcoming sport.
Noelle thoroughly enjoyed the connections and challenges of high school tennis, and Natalie went on to pursue tennis in college. "She still plays on USTA leagues, and when she moved to Austin, she instantly had a network of great tennis players and friends," says Drake.
After raising his family on Steamboat Island, Drake saw a real need to bring recreation to Steamboat and the surrounding communities. "I wanted people to have a place to recreate and connect closer to home," he says. "I think people need more things to do that are good for the family to enjoy together."
Coming from and raising a tennis family himself, Drake knew firsthand what an amazing impact a tennis club could make on such a tight-knit and involved community like Steamboat Island. It would open up opportunities for families to strengthen their bonds by coming together with a shared activity. He set out with a vision of bringing a premier health and wellness experience to the community he loved by building a brand-new tennis and athletic club.
In 2004, Drake secured the property for the facilities and worked hard for many years to get the club open. After 11 years of permitting, development, and construction, Steamboat Tennis & Athletic Club was finally able to open the doors of the tennis club. Drake's father Larry unfortunately passed in 2009 before the building was constructed, but his mother Marlene had a chance to see the inside before she passed away in March 2015.
Today, Drake carries on their legacy and inspiration through an annual USTA memorial tournament, which will be taking place January 13-15, 2023. Drake is hopeful that early 2023 will also bring the opening of the new athletic club, which is currently in the final stages of approval. Though his parents never had the opportunity to see this beautiful addition, he knows they would have been proud of the hard work his team has done to make this dream a reality.
Stay Connected and Active with Steamboat Tennis & Athletic Club
Though the athletic club is yet to open, STAC's premier indoor tennis club has plenty to keep you happy and healthy all year long. The spacious tennis club features four fully-enclosed tennis courts, two of which have permanent pickleball lines for the newest craze in the sports community. Group classes run throughout the week to help new players and experienced tennis enthusiasts master new skills, all while making friends along the way.
For those looking for more personalized instruction, the tennis pro team is available for private lessons to support children and adults breaking into this exciting and engaging sport. STAC also hosts a range of tournaments throughout the year, which is the perfect opportunity for competitive players to take their game to the next level and for spectators to come show their support from the comfort of the viewing area.
STAC is much more than a sports club, though. While tennis is their game, their primary goal is to foster stronger relationships within the community and provide fun activities for the whole family. The bonds that we build through our hobbies are ones that can last a lifetime, and Drake has seen this firsthand in his own tennis career. The friends and connections that he has developed over the years have brought such joy to his life, which is why he wanted to create a space for others to find the same. His vision in opening the new athletic club is to promote feel-good fitness that welcomes community members of all ages so they can find health and wellness right at their backdoor. With a heated indoor pool, industry-leading fitness equipment, a playful childcare center, and a health-conscious café, this new addition will provide everything you need to stay healthy all in one place.
Join Steamboat Tennis & Athletic Club and Experience a New Way of Wellness
At Steamboat Tennis & Athletic Club, you can achieve the healthy lifestyle you want with the support you deserve. Peers and staff are eager to build up the community, and cannot wait to welcome you too! Tours of both the facilities are available, so stop by the tennis club during normal business hours to see this beautiful addition to the Steamboat community.
In preparation for the new gym, STAC is promoting a $49 enrollment special for all memberships so you can easily jump into the fun. Call 360.539.7877 today to learn more about membership options and discover what the STAC life has to offer or visit the Steamboat Tennis & Athletic Club website.
Steamboat Tennis & Athletic Club
3505 Steamboat Island Road NW, Olympia
360.539.7877
Sponsored